"Education is not the filling of a pail, but the lighting of a fire."
-- William Yeats
What is
Learning
Learning takes place when children demonstrate new extensions to their existing neuronal constellations and when existing constellations have been consolidated.
Knowledge, skills and understanding represent three different kinds of learning that need to be taught learned and assessed differently
Everybody learns in different ways
Learning includes the academic, physical, emotional and rational
Learning needs to be contextual and connected
We learn best when we are actively engaged
We need to foster growth mind-sets and transform fixed mind-sets
We need to build in time to the curriculum for reflective 'slow thinking'
Learning needs to be contextual that shows connections between the subjects they study and their own lives
Learning is more than just being in school
We are continually learning more about how we learn, and we need to take account of latest brain research.
For our students to reach their learning potential we need to support the learning of the entire school community.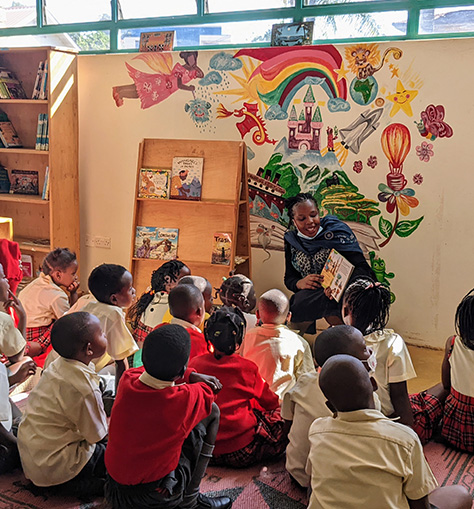 "You can teach a student a lesson for a day; but if you can teach him to learn by creating curiosity, he will continue the learning process as long as he lives."
-- Clay P. Bedford
At Clarke Junior School we deliver learning to a world-class level. We provide a fun and research-driven approach to our academic programme, supporting all students in creative and challenging ways. We encourage our students to discover things for themselves through questioning and research. Our teachers use a structured yet flexible approach to lead their students through an engaging learning process. Identifying clear outcomes for both academic and personal learning.
Our small class sizes permit a high degree of individualism, ensuring that each student is supported and challenged academically. We value both the need to work independently as well as collaboratively and to communicate and record learning through a variety of methods.


Assessment and Testing
"An education isn't how much you have committed to memory, or even how much you know. It's being able to differentiate between what you do know and what you don't. It's knowing where to go to find out what you need to know, and it's knowing how to use the information you get."
– William Feather
Throughout your child's education, we want to know what your child has learned and how they will perform with their peers both locally and globally. We use a mix of both National and International assessments and tests as part of our monitoring and evaluation.


Internal Assessments
The purpose of assessment is to inform teachers to improve learning. Instead of focusing simply on the assessment of performance, we value more highly the use of assessment to actively help teachers to help students continually improve their own learning hour by hour, day by day.
Through having a carefully structured plan of skill development teachers and students can use rubrics to describe their skill progression in terms of beginning, developing and mastering; this method supports learners to identify and discover what to do to achieve the next step towards mastering a skill. This individual goal setting ensures each child is challenged to their potential. This way parents are kept continually informed of their children's progress.
Join Clarke Junior School
Enrolling your child to Clarke Junior School will unlock their learning potential and prepare them for their future world locally and globally. We will work together to help your child shine.