Our students receive a high level of care and personal attention to support them in their learning. Our focus on academic achievement is matched by our desire to nurture adaptable, resilient and compassionate global citizens within a Ugandan context.
Great emphasis is put on pupil and teacher trust and well-being. We will work together as passionate and knowledgeable professionals to inspire our students to develop a love for exploring and discovery. Outdoor practical learning opportunities and healthy related physical activity is a regular feature of the school day, helping to develop a healthy body and mind.
Our students will learn to understand more deeply our own Ugandan culture as well as the culture of others, becoming socially and academically confident, and growing in respect for themselves and all others.
Our school day
Our school day is very demanding in terms of rigorous learning. We aim for children to be learning 80% of the day. Teachers will receive class specific timetables at the start of term.
Our school times are outlined below.
Clubs
Our Primary curriculum is supported by a wide variety of fun and interesting after school clubs. Clubs are a valuable part of supporting your child to become a well-rounded citizen inspired and excited to keep on learning.
To avoid disappointment make sure you sign up and pay for clubs quickly, as places are given on a first come first served basis
"Healthy school lunches mean students are getting the nourishment they need to power their minds and bodies to learn"
-- Anne Cooper
Healthy Meals
We believe healthy eating is an important part of being at school. We value our meal time and try to make eating a pleasurable experience and encourage children to make healthy choices.
We believe that parents should be able to order school meals with confidence and that children should be able to enjoy tasty and appealing food that's good for them. We have worked with nutritionists to plan a healthy, balanced meal of local food. Every meal includes carbohydrates, vegetables, protein and fruit.
We have regular reviews of our school menu by the student council and staff.
Hydration is especially important for children as they have higher water requirements than adults. we encourage regular drinking throughout the day and every class has safe drinking water.
"Clothes and Manners do not make the man; but, when he is made, they greatly improve his appearance."
-- Henry Ward Beecher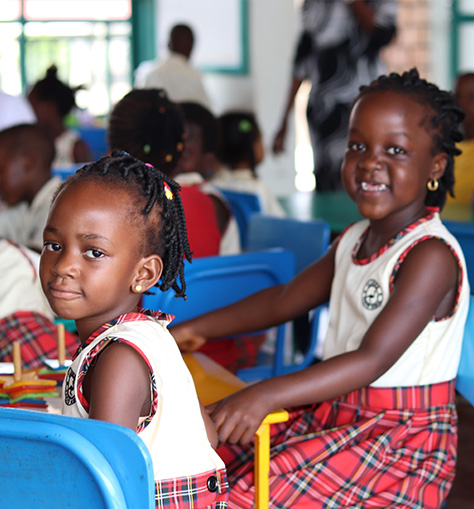 School Uniform
Our school uniforms have been carefully chosen to support the type of learning we want and to promote a sense of community and pride. They are practical, comfortable and smart. Uniforms are available from the school office. follow this link for prices